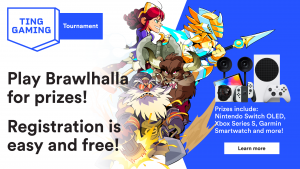 Ting is hosting a free virtual Brawlhalla tournament! Queue up to play Saturdays & Sundays until May 1. ALL prizes are raffle-based meaning you get entries just for playing, even if you lose every match.
💰 Cost: FREE
🎮Game: Brawlhalla
🎧Prizes: Nintendo Switch consoles, Garmin Smartwatch Esports Edition, Razer speakers, Xbox Series S consoles, gift cards, Apple Airtags, mice, controllers, and more!
Link to register:
https://app.generationesports.com/tournament/d96bd08c-960c-4b60-95b4-10d73aa5970d
Mesalands Esports Club will be on campus in A108 if you want to use the lab to participate in this tournament on Saturdays in April from Noon to 5pm.